🚴‍♀️ Workout from home surge | Peloton
I feel a bit late to the party, but on today's podcast episode I talked about why I love Peloton (PTON) as a 3-5 year buy.
👋 there,
I feel a bit late to the party, but on today's podcast episode I talked about why I love Peloton (PTON) as a 3-5 year buy. We can see an obvious "workout from home" trend with Dick's Sporting Goods (yeah they are still in business) reporting that their profits have doubled since this time last year. Huge shoutout to workout equipment and work from home stretchy pants.
What is Peloton?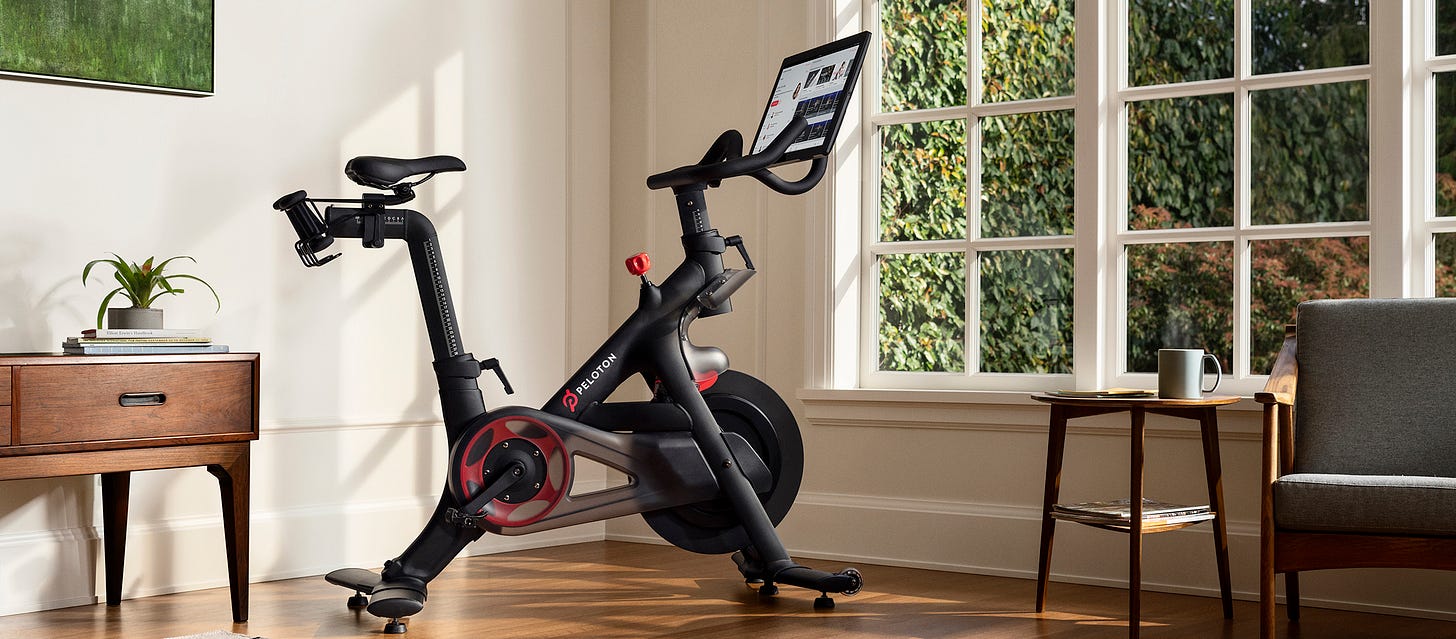 Think workout equipment with a giant iPad attached. The main kicker is that they produce their own content that brings a "Soul Cycle" type cycling experience into your own home.
Their software advantage is that their bikes connect to their digital content experience. For example if you take a live cycling class you can see how you compare to the competition. You can even see who is cycling in your same "virtual class" and connect with them.
Don't have a Peloton bike? No problem. You can purchase a subscription to their on-demand fitness content.
Why I Love Peloton
Peloton stock has obviously been a safe buy during COVID as people have been forced to stay in their homes. I believe that this is much more than just a pandemic fad for these reasons:
They are really a digital content company.
Peloton has 1,000,000+ connected fitness subscribers, who pay the company a monthly fee to participate in virtual exercise classes. Given the company's high retention rate (93%) this is a dream subscription business.
They have a cult following behind their virtual fitness instructors. Peloton users feel connected to the content and content creators. Check out how their fitness instructors Alex Toussaint and Ally Love have over a combined 660k followers on Instagram. This is just more evidence that they garner a very loyal customer base.
In the same way that people love Netflix original content, Peloton is constantly creating original fitness content that customers can subscribe to.
2.  They are a dream combo of Hardware (workout equipment) + Content/Streaming (on-demand/live fitness subscription) + Software (connected workout experience).
This combo creates multiple revenue streams and allows them to be evaluated like a streaming/tech business.
3. They have created insane brand affinity in the minds of their target market.
When millennials/Gen X'ers think Peloton they think: High quality, prestige, exclusive, and beneficial to their well being. That's a mighty combo and I believe their brand is a significant moat against the competition.
4. Becoming more attainable. Yes, they come at an extreme price point but they are taking multiple steps to get their product in the hands of people who can't quite afford it.
Quick second to reminisce on this amazing satirical thread about their original out of touch marketing.
They are supposedly creating a cheaper more mass market product.
Provide 0% financing where you can get the product + content subscription for $58 a month.
Gyms are purchasing Peloton products/subscriptions to offer gym goers.
Potential Peloton Risks
Apple is coming out with a fitness subscription.
I don't really think this will pose to much of a threat for the reasons listed above. Brand affinity + Peloton products act as a strong moat against Apple's workout classes.
2. Luxury purchases in a recession.
During times of financial hardship luxury purchases are going to be on the decline. I believe this won't a huge threat long term. Unfortunately COVID has created a larger income gap. I believe the market that Peloton is going after will still be able to purchase their products if COVID continues.
I added Peloton to the Four Minute Fund (update episode coming soon) this morning for $68.12 a share. If it takes a hit after their earnings call next week I will be adding with the dip.
Until next time,
TTYL
Four Minute Finance Newsletter
Join the newsletter to receive the latest updates in your inbox.
---